Today's enhanced odds & betting promotions
We work with the bookies to bring you all the latest enhanced odds and betting promotions. Choose the type of offer you are looking for and we'll show you a list of the most relevant current offers.

ENHANCED ODDS PRICE BOOSTS FREE BETS CASINO
Enhanced Odds
Join a new bookie with an Enhanced odds offer. We have the latest below:
Price Boosts
Price boosts are generally available to existing customers.
Free Bets
Standard sign up offers for new customers. Usually in the form of free bets, risk free bets, deposit matches or a combination of the above alongside free casino spins.
Casino
Our top casino offers in August 2020. More are available in our casino section.
Our most popular new customer offers are shown just above. There are plenty more to choose from on our promo codes page. That's where you'll find the full list, any promo codes required and in depth reviews of all of the brands.
What are enhanced odds?
If you are new to all this, perhaps a little explanation is in order. Enhanced odds are sign up offers from the bookmakers where they offer a much higher than normal price (odds) for something. For example, something such as 16/1 for Man United to win a football match. The real odds should be much shorter, so the bookies are aiming to entice potential new customers with headline inflated (enhanced) odds. Here's an example of a past offer (its no longer valid and can't be claimed):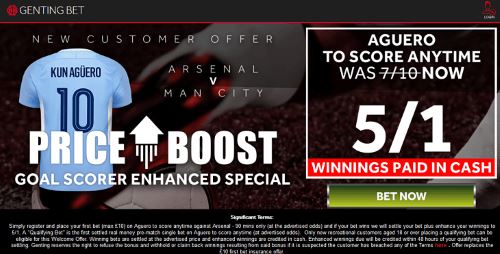 As an offer for a new customer they are similar to free bets, but the main difference is that they are not guaranteed. And that's the trade off. You'll usually get better value for your money, but there's always a small risk that you won't actually win. So in addition to enhanced odds offers, it is prudent to consider what your options are. Different offers suit different budgets and some people have differing approaches to risk, it's important to do what is right for you. Elsewhere on this page you will find the standard free bets and bonuses available to allow you to easily compare the options.
Which bookmakers offer enhanced odds?
Not all bookies offer these enhanced odds, but we cover the majority of those that do. All the bookies featured on the site are established, secure and trusted brands that have been operating for a significant length of time. You may note that we do not feature hundreds of little-known bookmakers like a lot of other sites, this is so you can be sure that you are going to be treated fairly when you sign up.
We feature all the current enhanced odds offers from these bookies across a range of sports. The majority of these are football odds, with the Premier League being the competition featured the most. You'll also see betting offers for the FA Cup, Champions League, League Cup etc, we'll post these in the days leading up to the appropriate fixtures. Lately the bookies have been featuring a lot of enhanced accumulators, we've seen some enormous prices on just 3 team trebles, so keep an eye out for more of these.
Remember that the very nature of enhanced betting means that the offers are often short-lived. The bookmakers will often only publish the increased odds in the last couple of days leading up to a game. In fact, some of the best enhanced odds can be found in the hours leading up to kick off. So bookmark the site and be sure to check back often for all the best deals!
Whats the difference between Enhanced Odds and Price Boost?
We often get asked to explain the difference between a "price boost" and "enhanced odds," so whats the story? Really, there's actually very little difference, both refer to the same underlying concept, which is that of the price (or odds) on a selection being increased as a special offer. However, it's worth noting that there are two very different levels of "boost" or "enhancement," as follows:
Day to day price boost – small increase in odds. Available to all customers, either new or existing. Typically designed to add value for existing customers. Example:
Harry Kane to score first, was 7/2 now 4/1.
This represents a small increase in value which the bookmakers offer to keep existing customers happy. If you have a preferred bookie that you bet with you might find that they offer these sort of price boosts to you directly, in line with your favourite teams, races etc. Another reason why it can pay to be opted-in to ongoing promotions once you've have found a brand you are happy with.
As we've discussed above, new customer enhanced odds are typically huge prices on likely outcomes, designed to attract new customers. They are not available to existing customers otherwise the bookies would soon be out of business!
Bottom line, it is simply a difference in terminology. It should always be clear who the offer applies to from the wording and terms, but if in doubt consult the bookies own site before placing any bets.
Best bookie for enhanced odds!
Who's in the Enhanced Bets hall of fame so far this year then? The list below shows the top bookies for enhanced odds, taking into account a number of factors. We've considered both the quantity AND quality of their odds, their originality and their general appeal to you the punter.
Due to the relentless consistency with which we've been able to offer quality Betfair enhanced odds to you, they take the number one spot. By providing regular ongoing sign up offers and Betfair enhanced specials, they have also cemented their place as a firm favourite with our visitors. Paddy Power are a close second with hugely competitive prices and a reputation for both good fun and high quality customer service. Coral complete a close run top 3, their "Brazil to wear yellow" offer was a massive hit with our visitors.
As a clarification, the list below also includes bookies that have these offers on a regular basis for their existing customers. For example, although we don't regularly have William Hill enhanced odds on our homepage, they are a bookie that gives extra value to their customers with continual regular offers.
Alternative new customer offers – Promo codes and free bets
In addition to all the short-lived enhanced odds and specials on offer, we also detail the available new customer offers that can be used when joining a new bookmaker. These are typically the bread and butter type offers that are available week in week out. As you probably know, whenever you sign up with a new company you can take advantage of their current free bet (sometimes a promo code is needed to claim it) as an incentive and to help get you started. The top betting offers are shown just above, and the best of the rest can be found in our review section or via the search box.
Both the free bets and the associated promotion codes do change from time to time, generally as the bookies adjust their offers whilst vying for your custom! If you want to know when a new one goes live make sure you check back regularly!
Enhanced Bets app
The enhanced bets app is now live! Install on your mobile to be kept up to date with all the latest enhanced odds, price boosts and new customer offers. The app has a number of tabs to separate out all the available offers, with priority given to the latest enhanced odds offers. These are displayed on the homepage in time and date order. I.e. the offer at the top is the closest to expiry / kick off.
You can find the apps here: