Betfair price rush
What is Betfair Price Rush and how does it work in your favour?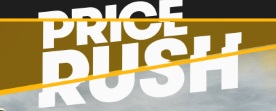 Betfair is always striving to innovate, and we've got news of yet another new feature that is already available for users of the Betfair sportsbook. It's a clever addition to the Betfair family of products as it will be working away in the background to bring you the best possible odds as you bet. We explain how it does this, and also how new customers can help themselves to the current sign up deal worth a £30 boost in free bets.
Try it now with the current Betfair sportsbook offer get you started!
When, and how does Betfair Price Rush work?
First of all, it's important to understand that the underlying reason that Price Rush works is that Betfair actually consists of two main products. Firstly there is the sportsbook, which is essentially a normal online bookmakers; and secondly they have a betting exchange. The exchange is different because it allows you to play bookie by offering odds on things yourself. This opens up a whole new world of betting and entire books have been written on the subject of exchanges, so we won't attempt to explain it here! All you need to know is that it has a separate pool of money being traded on all the major sporting events, and that by creating a link between this and the sportsbook, Betfair has given benefits to customers of BOTH products.
As this article explains how Betfair Price Rush benefits users of the sportsbook, this will be the main focus. For those of you who are familiar with the way the exchange works, it will become obvious how the benefits manifest themselves over there as well.
When you place a bet with the sportsbook, Betfair will automatically check the available prices for the same outcome on their exchange. If this is higher at the time of placement, your stake will be boosted to match that available there. At best, you get better odds than expected, at worst, you get the price you asked for. It's a win / win situation.
When is Price Rush available?
Price Rush is available for a variety of markets in football, horse racing, tennis, golf and basketball, both pre kick-off and in-play. It's not immediately obvious if you're already in a specific market, so a Rushed price might appear on your betslip as an unexpected bonus! If so, it will look something like this: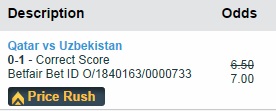 If you prefer to look specifically for the markets that are covered by it, you can navigate to the Price Rush homepage to see a list of all upcoming and live events. This page will also tell you which markets within an event are covered. Note that for football, it is often available for markets such as "Correct score" but not for the "Match odds." Finally, note that it isn't available on each way bets.
Another common question we get is whether or not a Price Rushed bet still qualifies for Cash Out? The answer is yes, as long as you were in a market that supports cash out in the first place. Remember that if you do get a boost, you might immediately find you can Cash Out for a small profit, so keep an eye out for this!
Betfair Price Rush tips
We often receive questions about Price Rush, asking if there's a way you can guarantee you'll benefit from it? The simple answer to this is to keep an eye on the exchange, which you can access with the same Betfair account you use for their sportsbook. If the price is better there, and you are betting on a market that supports Price Rush, then you know you'll benefit when you place your bet.
Of course, a better answer to this is for you to actually start using the exchange yourself. One of the key concepts of the exchange is that you can place an order into a market, rather than accept the current price. There's no guarantee your order will be matched, but if it is then you've bagged yourself the better price that you asked for. Taking a small step into exchange betting such as this can be an interesting way to develop your understanding of the possibilities it offers, but we do encourage you to tread carefully if you are completely new to it.
Good luck betting with Betfair, we hope that you'll find plenty of your bets do benefit from the Price Rush and you'll be enjoying the extra winnings as a result! If you are interesting in reading more about Betfair, check out our Betfair promo code where you'll find a review of the various products on offer.