Kell Brook vs Errol Spence Jr – IBF Welterweight Boxing Preview & Betting Tips
IBF Welterweight Boxing from Bramhall Lane in Sheffield, Sat 27th May, live on Sky Sports Box Office at 10:00pm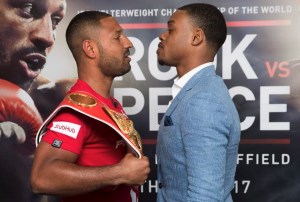 Pride of British boxing, Sheffield's Kell Brook, returns to the ring for the first time since being smashed into submission by human-wrecking ball Gennady Golovkin back in September at middleweight.
That proved to be an ill-advised jump up two weight divisions, Brook taken apart before being saved by his corner in round five – suffering a broken eye socket in the process – but the IBF welterweight king hasn't taken an easy route back. Quite the opposite in fact.
No one would blame Special K for working his way back into the game, picking up a risk-free win against a lesser opponent to get his hand raised again and put some confidence back into his work, following that spirit crushing, bone smashing loss at the O2 Arena, but in American Errol Spence Jr, he faces an opponent billed as the next big thing at 146lbs.
Brook vs Spence Jr – Fight Preview and Predictions
Spence makes the trip from his Texan base with a perfect 21 fight record, all wins, 18 of those coming by way of knockout. That 86 per cent KO average has been enhanced in each of his last eight bouts, last seeing a fight go the distance three years ago. In that time, The Truth has downed seven of the eight men placed in front of him before the end of the sixth round.
His last fight fell into line, halting experienced Leonard Bundu in six rounds in New York, earning himself a shot at the world title. We now have a visitor on a run of KO wins, against a host who was stopped, rather convincingly, last time. Does that make Spence an easy pick to win inside-the-distance again? Bookies think so, and there's 13/8 at Coral on Errol without the need for the judges. If you'd rather take a shot on him getting the decision on foreign canvas, that represents a bit more of a risk, so bet365 will hand over a market best price of 3/1, while victory, regardless of how he achieves it, is 8/13 across the board.
Many will be surprised to see Kell Brook written off as a second favourite to win his own title here. The Englishman steps out onto an open-air show at Bramall Lane in front of a bumper crowd, 99 per cent of which will be supporting him, and before a live TV audience – all with a world title on the line. It's the stuff fighters dream of. From the first moment Brook set foot in a boxing gym, or slipped on the leather gloves, this would've been his plan.
And what makes it all the better, he goes in looking to make a point and starts as the betting underdog, in front of his own people. It looks set for the upset, and a Hollywood script writer would have a job setting the scene any better. The home town hero remains undefeated at welterweight – his natural limit – and that won't be lost on him or his team.
They gambled and went up to middle, against the most savage and destructive puncher in boxing history. They had a plan, to use natural speed to hit and move and win on points. It backfired, and all they did was show GGG wasn't as one dimensional as people thought. Lesson learned – we move on. It counts for nothing here. One worry is that the muscle Brook piled on to get up two divisions wouldn't have budged easily, but he has had a big chunk of time to get it off sensibly, and I think people are reading too much into it.
Brook vs Spence Jr – Betting Tips
It's achievable to knock off 2-3 lbs a week, all without harming your body and hydration. I've worked alongside some of the top nutritionists in the game, Freddie Brown for one, so there's no doubt Brook – a world champion – would've done things the right way. I'm more than happy to ignore that worry, and take the upset about a Kell Brook victory at 6/4 with 888Sport.
Those looking for a little more value for money can take a chance on the underdog to win over the home judges, and a points decision is 10/3 with the same firm. It's worth remembering, for as good as Spence is, he's only fought 11 rounds in the last year, and hasn't been seen since August, when in a non-title bout.