Coral promo codes
* NEW * We've got all the latest Coral promo codes to guarantee you their best offer, which product you fancy getting started with:
One of the UK's biggest, most widely recognised and trusted bookmaking brands, Coral has been around for nearly a century and continues to go from strength to strength. Before you check them out to find out why, make sure you take advantage of their latest top promotion.
We've got all the details right here, but if you simply want to get going straight away, there's just two things you need to do:
1. Click above to reveal the Coral promo code.
2. Make a note of the code if required so you can enter it during sign up.
Coral promo code for December 2023:
If there is not a requirement to enter a promo code for Coral you will automatically be eligible having clicked the claim button. We'll of course update this page if anything changes.
What is the current Coral promo code?
Coral is a bookie that likes to give it's customers value, this is the same whether you've just signed up, or whether you've been there for years. You'll see this right from the outset with their generous current sign up offer, which gives you a free bet worth 4x time your stake! Most bookies will match it one for one, but not Coral. The current offer is "Bet £5, Get £20." It's as simple as it sounds, so for just a fiver, you are getting £20 in free bets!
UPDATED * A quick note in addition to the above *
Coral sometimes offer alternative sign up incentives, so you can pick and choose the one that is right for you. To check this, click on the Coral image below, then click the Coral logo at the top left of the offer page. If there's an alternative offer, you'll see it there. We've included a screenshot of the recent Coral football promotion so you know what you'll see if there is one at present: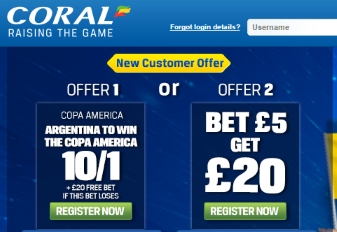 Alternatively, you can also check out our homepage where we feature all the latest Coral offers. There are plenty of them, and these are a generally available as an alternative to signing up with the Coral promo code. It's nice to have the choice, but also to know that whichever one you go for you'll be getting good value for your money.
Football betting at Coral
Coral is a top bookie for English football, featuring all the big leagues you'd expect to see. For those of you who like to steer clear of the glare of the top divisions though, they also have great coverage of the lower tiers of football. If you are getting started today with the latest Coral promo code there will be plenty of matches to choose from, all with hundreds of individual markets covering every aspect of the game.
Coral bookmakers history
Coral is a name synonymous with betting, one of the traditional old school brands that has been around for a long time. Most people don't realise, but the name actually comes from a chap by the name of Joe Coral, who nigh on 100 years ago set up a bookmaking stand at his local racetrack. A forward thinker, he was subsequently one of the first to set up a licensed betting shop following regulative changes in the 1960s. In the years that followed Coral has seen many changes, both in appearance and ownership. This all started in the early days with mergers and expansions, including its integration into the huge Bass group.
By the end of the 20th Century Coral was a huge brand with a vast presence on the high street. Diversification into other aspects of the industry such as social clubs and hotels were reigned in and the focus remained on the betting side of the business. It all changed for good in 1999 when Coral purchased Eurobet, an online bookmaker. This was the early days of Internet betting, and the move proved to be a wise one.
Today the Coral brand is part of the wider Gala Coral group. However,it retains its traditional and distinctive branding, which combined with a focus on value for its punters ensures it remains a big player today. If you are ready to join in and see why, ensure you use the Coral promo code from Enhanced Bets.
Coral sign up offer – Important terms
We have recently taken the decision not to republish full terms and conditions relating to sign up offers. Instead we ask that you refer to the Coral website to ensure that you are familiar with the current and full version of the terms. These can be accessed by clicking any of the links of this page to view the offer on Coral's own site.
We can point out though that there's nothing to worry about with them. They are industry standard stipulations with this sort of offer. Just make sure you pay attention to them to ensure you make the most of it!
Good luck betting with Coral.