Paddy Power promo code
Paddy Power has rapidly become one of the most famous online bookies, known and respected for it's seemingly never-ending promotions, free bets and special offers. Talking of which:
It really does give more to customers, and that's why they just keep coming back. Paddy Power is the sort of bookie that'll give you a generous joining offer, then continue with the goods week after week.
The current Paddy Power sign up bonus is below, and further down this page we've got all the promotional details for you to see how to make the most of it. But if you just want to claim it and get started, the short version is immediately below:
1. Click the button above to reveal the latest free bet code for new customers.
2. Make a note of the Paddy Power promotion code for the current month, and enter it when you sign up if required.
Paddy Power promo code – December 2023:
If you have clicked the reveal code button above and see that there is currently no need to enter a promo code on sign up, you'll can be sure that you are already eligible for the free bets. Note however that there is a "promotions" section on the registration form under communications, we'll explain more about this later.)
What does this Paddy Power promotion give you?
Currently, in December 2023, the Paddy Power promotion is a market leading offer, you can see the details just above. All you need to do it make sure you check out the key terms and conditions (below) so you meet the qualification requirements. This is standard stuff though, the only one that you really should be aware of is that your first bet must be a single placed on the sportsbook. Should you lose this bet, Paddy Power will refund the cash with 6 hours (during normal business hours – if you place your bet late at night you'll wait a little longer).
This new customer promotion is just the beginning though. We've heard from a lot of very satisfied Paddy Power customers, and the reasons why are always the same, it's the ongoing promotions. Paddy loves to give you more, and you'll regularly receive offers giving you additional freebies for specific events. Typical recent examples of this are the football matches where you place a pre-match bet, then get a free bet to use in-play! To ensure you get all these extras, please read on.
Paddy Power promotions
To ensure you are opted-in to all the additional Paddy Power promotions, when you register your new Paddy Power account you will note a section in on the form as below: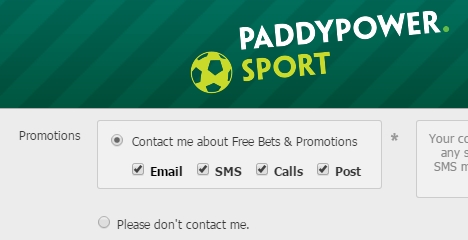 This will be pre-filled with the boxes ticked as you can see in the image above. You can configure it as per your personal communications preferences, but we do recommend that you leave at least one of the boxes ticked. This way, Paddy Power will contact you whenever one of the additional offers is available. You'll soon see that they really do love to give extra value to their loyal customers this way!
Paddy Power Money Back Special
One prime example of the sort of value you'll get as a Paddy Power customer is their legendary Money Back Special. This is a daily offer that is open to all customers, existing or new. Each day Paddy Power will select a range of different markets where the Money Back Special (MBS) applies. It's often thought of as an a promotion for horse or greyhound racing, but actually you'll see it pop up on all sorts of different sports.
Typically for racing you'll get a free bet if your horse / dog finishes second to the favourite. Other sports have a variety of different offers, as you can see from today's selection below.
Paddy Power MBS December 2023
At the moment there are a bumper selection of MBS and other offers for all customers. Remember some are valid just for a single day, others are ongoing – below are some typical examples of what you can expect. Check the Paddy Power website for the latest list:
Greyhound racing – Money back if your dog finishes second to the starting favourite.
Golf – 7 places paid for each way bets on various golf tournaments.
GAA double trouble – double odds on first goalscorer bets if the goal is scored in the first 20 minutes.
Horse Racing – Money back if your horse finishes second to the SP favourite.
Cricket, T20. Money back if your team loses despite scoring more than 175 runs on a televised matches.
Paddy Power puts the fun in betting
As well as being a fantastic place to bet (they really do give a lot of free money away!), Paddy Power is also renowned for poking a bit of fun from time to time. Their TV adverts show the lighter side that we all enjoy, and they continue to produce unique and entertaining marketing campaigns. Just another reason they are so well liked across the board. One of the famous TV ads is reproduced below for your enjoyment – it's the only place you can see it as it was banned from being on TV!
Paddy Power promo code – terms and conditions
To aid in the transparency of the whole process, we always summarise the key terms of our offers. The full and up to date version will always be on the Paddy Power website, but we have reproduced the most important terms for your convenience. That way you can ensure you both qualify for, and maximise the potential of the Paddy Power promo.
The key points to note when you register a new betting account using the Paddy Power promo codes.
Key terms and conditions:
The key terms of this promotion must be confirmed on the Paddy Power website. We republish the significant terms at the top of the page, but to view the full T&Cs please visit Paddy Power. This is to ensure there cannot be any doubt surrounding the requirements of the offer. It is your responsibility to read and understand all appropriate terms before availing of this promotion.